Fall / Winter 2019 trends include callbacks from the '90s, '80s And the '70s. as well as a couple of fashion trends that can't be traced back to any particular era that finessed their way down the runways in high style!
 From New York, London, Milan, and Paris designers like Gucci, Chanel, and more declared everything from power shoulders to the teeny-weeny micro bags a thing!
____
1. Asymmetrical Necklines
the lopsided necklines shoulder is an effortlessly put-together look,  it gives an "I just threw it on"  vibe that's both sexy and bold
____
2. Satin is back!
satin is back in a big way. Versace brought back their '90s satin dresses, updating them in neon hues with contrasting lace edges.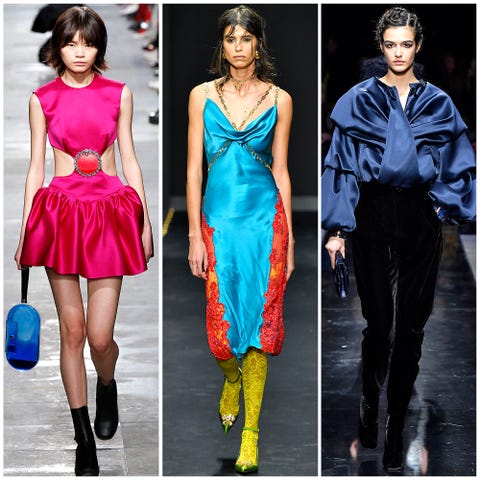 ____
3. the teeny-tiny "micro" bag
the "micro" bag. C
ute, trendy, and highly Instagrammable. A

n impractical accessory that holds a coin or two... or one. It's 

wildly quixotic yet charming and contagious

.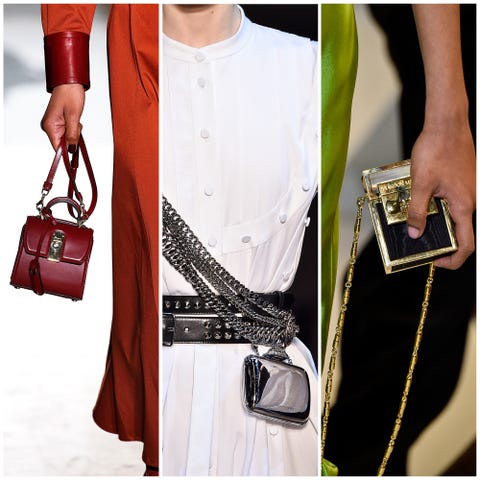 ____
4. everything is coming up purple this fall
From pastel lilacs to deep violets and all that's in between, purple hit the fall 2019 catwalks with class and savior-faire
5. The Superhero Cape

One of the strongest outerwear silhouettes to come out of the Fall 2019 collections was the cape. Chanel gave the capelet the tweed treatment, Marc Jacobs showed one in Leopard, and Hedi Slimane's second collection for Celine made the best in basic. The many variations prove the heroic cut works for every occasion.
_____
6. BIRDS OF A FEATHER
designers are adding whispy feathered trims to t-shirts & boyfriend jeans giving the texture a lighter touch. Valentino delicately edged their dresses in a delicate trim, and Proenza Schouler showed a feather-backed top that looked as if it would blow away with a soft breeze.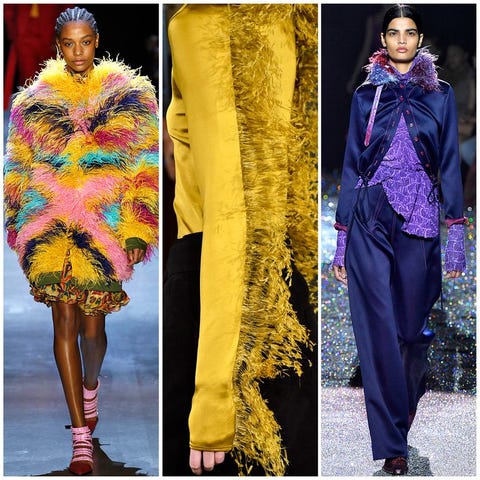 _____
7. the Power "cinched" Suit
it's all about the belt, 

artfully cinched jackets, and roomy pants.

 Blazers came with built-in cinchers at Prada, and Marni contrasted gray suits with heavy chains. Follow their lead and nip the waist on all your suits, oversized and otherwise. The best part about this trend is that you don't need to invest in the jacket—simply buy a cute new belt and your rock's the trend!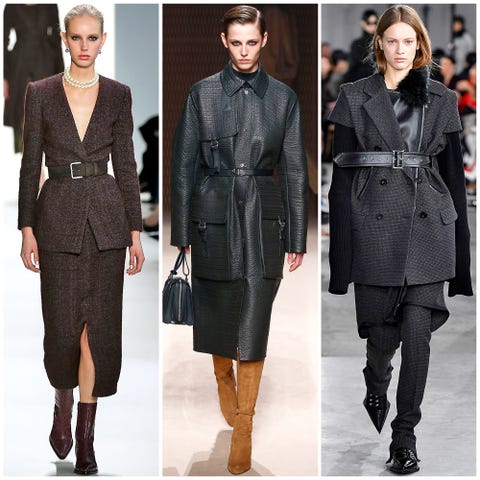 8. quilting & patching 
Quilting was a texture we saw sprinkled quite evenly across the map, as it showed up on everything from evening gowns to trousers. Besides the billowy, plush feel and look of quilting, we saw the theme of patchwork make a name for  among the trend
_____
9. The square-toed shoe trend
Brazen and showy, corners sharpening where roundness once prevailed. It's also surprisingly controversial, 
GQ called the silhouette a "geometric disgrace." And this may make this trend all the more attractive
____
10. The Urban Cowboy
the urban cowboy trend looks like it's here for the long haul. 
The runways showcased the most beautiful elements of cowboy boots, super chic and modern. Made of snakeskin leather, autumnal leather patchwork in shades of green, red, yellow, and white with a classic slouchy silhouette, pointed toes, and a blocky cowboy boot-style heel. 
____
11. Square-Neck Decolletage
Making a more contemporary comeback, they appeared on the runways of Dolce and Gabbana and Attico. With the low neckline, it's also super flattering as it gives the illusion of a swan-like neck.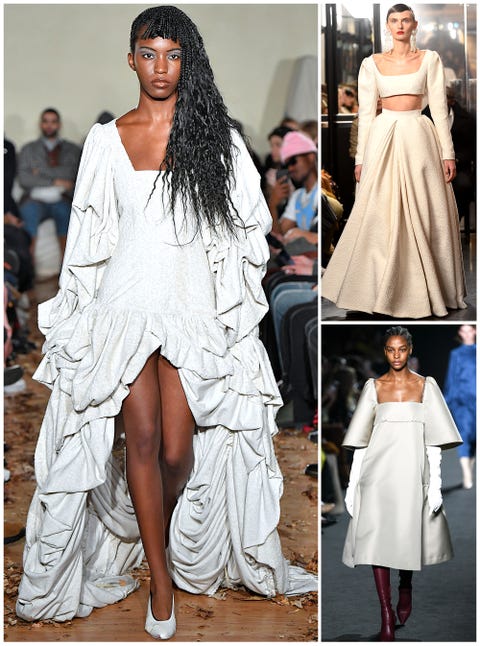 ____
12. Headband Trend
Nothing makes us feel more polished than pulling our hair back into a headband. This season they're back with a  vengeance, 
From super wide to blinged-out, slightly reminded us of tiaras 



____
13.  Lots and lots of leather 
Colorful Leather in an array of shapes and styles, there were both skirt suits and pantsuits made of leather on the runways this season. Radiating exotic color vibes  of dark purple, burgundy, ginger, forest green, and blue